Flea Treatments in Toowoomba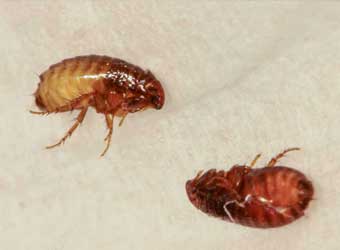 Fleas can make life a misery for both pets and their owners. Fleas are a bloodsucking parasite that can cause itchiness and rashes and in extreme cases can transmit diseases
The adult female usual lays 4-8 eggs after each blood meal. In her lifetime, she may lay several hundred eggs. Most eggs are laid on the host and these eventually fall off they can be distributed in virtually any areas visited by the by the host.
Fleas prefer warm, humid conditions and hence are often pests during late summer.
Preparing For Flea Treatment
For Your Pet
We would suggest washing your pets with a good flea treatment

You should start your pets on a flea program from the vet or pet store. We do recommend using something like Advantage, Frontline etc. If your pets are already on a program, we suggest you alternate between flea treatments every 2-3 months as this prevents the fleas building up immunity to the one product.
Internally
We recommend that you vacuum daily until the day of your scheduled appointment.

Remove goods stored on the floor inside the house and place them up off the floor.
Externally
Mow the lawn short and soak with water a day before treatment.

Make sure that the ground is clear of any stored items.
GET IN TOUCH WITH US TODAY!
OUR GUARANTEE
Petes Pest Control Toowoomba takes great pride in the service we provide and in our capabilities as trained professionals. That's why all our domestic pest management of Cockroaches, Household Ants, Spiders and Silverfish come with a full 12 month FREE service warranty. This means if a treated pest returns within the 12 month period you can rest assured as Petes Pest Control Toowoomba will also return and treat the affected area at no extra charge to you... No questions asked!