Termite Inspections in Toowoomba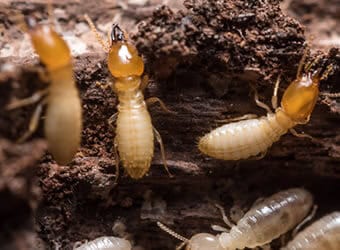 Many homeowners consider termite infestation a not-so-serious problem. Many of them believe that they can get away with the problem or keep ignoring it until it goes away. Well, the truth is that the termites will never go away without your intervention. After all, they already found a home. Why should they leave?
Furthermore, the more you wait to fix this problem, the more the situation will escalate, and the more money you will eventually be forced to pay professionals to deal with it. We can perform termite inspections in residential and commercial properties, in addition to other services such as End of Lease Pest Control and Rodent Control Toowoomba wide.
Is It Time to Protect Your Home from Termites?
Yes, it is time to protect your home from termites! The inspection is the first step of ensuring that your home remains safe and a no-go zone for all termites. A timely inspection offers you better protection for the property's structural integrity. More importantly, it also saves you a ton of money. A good approach involves thorough inspection, complete eradication, and proper implementation of new measures to protect the property against any future infestations.
Our Pest Solutions
Termites are everywhere. Your home is never 100% safe no matter the existing or surrounding conditions. For this reason, we have all the resources, experience and training required to provide timely and effective pest solutions. Our solutions get rid of the pests and the conditions that make them consider your property such an attractive place to be around. Your home could be the cleanest in the neighbourhood, however, you will never be safe as long as one or more of your neighbours has a colony of termites growing and thriving in their home.
What solutions do we offer?
Before we offer you a solution to your termite problem, we perform an inspection. Typically, a normal inspection lasts about 2 hours. During this time, we check the entire house thoroughly and give it a much-needed inspection. The inspection isn't limited to what happens inside your home alone. It also covers what is outside the four walls. Our inspection team looks at the surrounding logs, trees, and fences. We do this to ascertain the presence of termite activity. Our experience and training make us capable of noticing any activity that calls for immediate solutions.
Some of the areas we inspect include:
Hot water overflows

Air-conditioning condensation pipes

Weep holes

Concrete

Architraves

Frames on windows and doors

Skirting boards

Walls

Edges of carpets
Our solutions are environmentally friendly. More than that, we employ qualified technicians to provide you with 5-Star services. We also incorporate the latest technology to make each inspection and the subsequent solutions highly efficient. Toowoomba's homes are in a high-risk area; hence the need for inspections and quality solutions. Without any of these, your property would continue attracting termites in greater numbers. The inspection also gives you peace of mind, especially when considering that your insurers would never cover termite damage.
Get in touch with us for more details on the best termite inspection, Residential Pest Control or other services, such as Bird Control and Management Toowoomba wide.
GET IN TOUCH WITH US TODAY!
OUR GUARANTEE
Petes Pest Control Toowoomba takes great pride in the service we provide and in our capabilities as trained professionals. That's why all our domestic pest management of Cockroaches, Household Ants, Spiders and Silverfish come with a full 12 month FREE service warranty. This means if a treated pest returns within the 12 month period you can rest assured as Petes Pest Control Toowoomba will also return and treat the affected area at no extra charge to you... No questions asked!